History
Our Supporters
Program Recruitment
History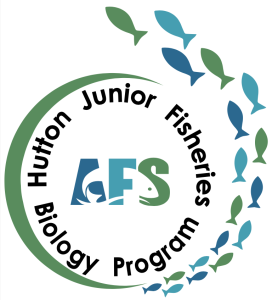 The original concept for the Hutton Junior Fisheries Biology Program was developed by longtime AFS members, Kenneth Beal and Gene Fritz. Beal and Fritz presented the idea of an immersive, hands-on summer internship for high school students who participate in research-based experiences to help inspire them to consider pursuing careers related to fisheries and aquatic sciences. The target student for this internship would be one from an underrepresented background in the fisheries profession today. The Hutton Program was approved by the American Fisheries Society (AFS) Governing Board in 2000. The program was named in honor of the late Dr. Robert F. Hutton, who was the American Fisheries Society's first Executive Director, serving from 1965 to 1972, and the AFS President from 1976 to 1977.
Since its inception in 2001, the Hutton Program has provided internships and mentoring experiences in fisheries and aquatic science to 717 students with the help of over 800 mentors in more than 150 host and financially sponsoring institutions. Over the past 20 years, 59% of Hutton Scholars have been women and 57% identify as BIPOC (Black, Indigenous, People of Color).
Mentored by fisheries professionals, Hutton Scholars gain an awareness of conservation issues and the importance of healthy aquatic systems; participate in projects that benefit habitat restoration, protection, and management; and gain an understanding of what is involved in being a fisheries biologist and of the career opportunities available in the field.
For most Hutton Scholars, the Hutton Program is their first exposure to a professional work setting. They learn what qualities are necessary to be successful in this environment and the importance of being part of a team effort. Now many of these Scholars are seriously considering a career in fisheries science.
The Hutton Junior Fisheries Biology Program conducted an alumni survey in 2011 to analyze the effect of the program of its 2001-2011 scholars. The survey results are as follows:
12% are working in Fisheries
64% are in Fisheries, Biology or Environmental science professions/field of study
11% are in unrelated field of study
8% are in fields of other sciences
5% are in fields of non-sciences
The majority of these students were mentored in the Continental United States; however, recent classes have included students in Canada, Puerto Rico, and Mexico.
AFS looks forward to providing this unique educational experience to many more students in the coming years!
Our Supporters
Program Recruitment