In The News
 Feature 
BLM employs local Hutton fisheries scholarship recipient
Mark E. Jacobsen, Public Affairs Specialist, Eastern Montana/Dakotas District
MILES CITY, Mont. – The BLM Miles City fisheries program in eastern Montana got some help this summer with the placement of a Hutton Program scholar, a volunteer field position funded by the American Fisheries Society. Kadie Heinle, 2015 graduate of Custer County District High School and who has an interest in marine biology, was one of about 25 students selected from around the nation. "The Hutton Program is for high school students interested in getting into the fisheries field," said BLM Fish Biologist Christina Stuart. "It's a great program and an honor for the student to be selected by AFS for this." Read More
---
Press Feature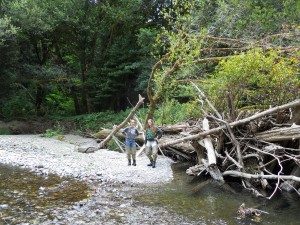 Oregon Department of Fish and Wildlife and the U.S Forest Service Mentor two Hutton Scholars
Oregon Chapter of American Fisheries Society (AFS)
Coos Bay BLM, Oregon Department of Fish and Wildlife, and the Forest Service Powers Ranger Station mentored two students selected to participate in the American Fisheries Society Hutton Junior Fisheries Biology Program this summer. The goal of the eight week Hutton Program is to recruit students, with an emphasis on female and minority applicants, into careers in fisheries. Two local students were selected for the internship program, Alberta Clough just graduated from Marshfield High School in Coos Bay and Alberta Knight will be a senior at North Bend High School. We were very fortunate to have the "Abbey's" as we call them, for the summer. Read More
---
Press Feature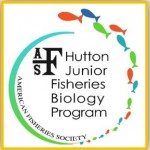 Hutton Program Furthers Futures in Fisheries
By:  Bailey Edelstein
 If there is anything to learn from Caitlin McGarigal about entering the world of professional fisheries biology, it is patience and perseverance. In 2007, McGarigal was awarded a scholarship through the Hutton Junior Fisheries Biology Program to fund her volunteer work in the research lab of Francis Juanes and doctoral student David Stormer at the University of Massachusetts. McGarigal's account of personal and academic determination over the years highlight her perpetually growing interests and fascinations within the field.
"I was already interested in a career in fisheries when I began volunteering [at the University of Massachusetts], but the Hutton scholarship provided me with my first true research experience and definitely strengthened my confidence in pursuing [a future in] the field of fisheries and marine science," McGarigal said. Read More
---
Featured Research Project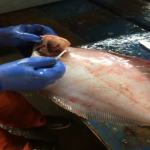 Age and Growth
By: Samantha Delaney (Mentor: Dr. Earl Meredith NMFS Cooperative Research) AFS 2015 Hutton Scholar
Northeast Fisheries Science Center/ Greater Atlantic Region August 2015
The age and growth of fishes are important because it provides an integrated assessment of environmental and endogenous conditions affecting fish. Although there are several methods for aging fish, the most common method is examining the hard parts of the fish. The hard parts of the fish that are used include scales, otoliths, fin spines, fin rays, cleithra, vertebrae, opercular bones, and dentary bones. For my age and growth lab, I examined fish otoliths, hard, calcium carbonate structures located directly next to the brain of bony fishes. Read More
---
Blog Feature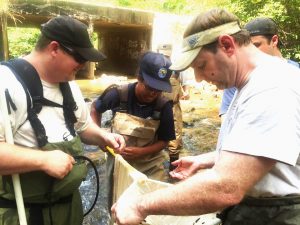 Hutton Fish-tales Blog
U.S Fish and Wildlife Service
By:  Dionna Walker (2015 Hutton Scholar)
My name is Dionna Walker and I am from Daphne, Alabama. I graduated from the Alabama School of Math and Science, and will start school at the University of Alabama at Birmingham this fall. I am spending the summer as an intern with the U.S. Fish and Wildlife Service Alabama Field Office. I got this amazing opportunity through the American Fisheries Society by applying for their Hutton Junior Fisheries Scholarship. I will work for a total of eight weeks under my mentors: Andy Ford, Jennifer Grunewald, and Jeff Powell. I applied for this scholarship at the prompting of one of my high school biology teachers, Mr. McPhail. I was selected from a pool of many applicants. I am ready to learn all I can about fisheries science! Read More
---
Blog Feature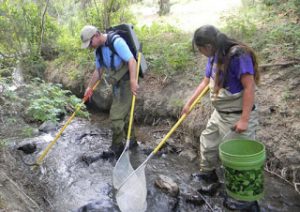 Fisheries Intern Gets Feet Wet
The Fisheries Program Blog 
By: Bureau of Land Management (BLM) Fisheries Colorado  
BLM Colorado's Kremmling Field Office partnered with the Hutton Junior Fisheries Biology Program this summer to provide work experience and training to two local students. This nationwide program sponsored by the American Fisheries Society is designed to stimulate career interest in fisheries science among young people from underrepresented groups. The program offers a paid summer internship and mentoring opportunity for high school juniors and seniors.
Through the program, two seniors from West Grand High School, Charlee Manguso and Yvette Garcia, engaged in a variety of projects at the Kremmling Field Office. The students measured stream flows and water quality, evaluated riparian health and fish habitats, studied stoneflies, placed radio transmitters in stocked fish at the Blue Valley Ranch, and collected cutthroat trout tissue samples for genetic testing. Read More
---