Since 2001, the American Fisheries Society has sponsored almost 700 Hutton internships around the United States, Mexico and Canada. When last surveyed, 89% of Hutton Alumni are either currently studying or working in the field of fisheries and aquatic science! Many of them attribute their time spent in the Hutton Program as the catalyst to pursuing careers studying and working with fish.
Take a look at what some of AFS's Hutton Program alumni are up to today:
How Hutton had a Lasting Impact on 2015 Hutton Scholar, Kadie Heinle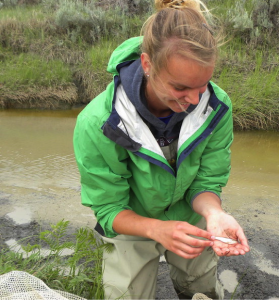 Figure 1- Working up fishes from our seine haul in Cedar Creek during my time as a Hutton Scholar in 2015. Credit: C. Stuart
My name is Kadie Heinle and I was a Hutton Scholar in 2015 for the Bureau of Land Management (BLM) out of Miles City, MT. While I don't think I can adequately express how thankful I am to have participated in this program, I wanted to take the chance to tell you all about my time as a Hutton Scholar and how this experience has shaped my life and career in fisheries to date. 
Growing up, I've always loved spending time in and around water. I grew up floating and fishing our local Yellowstone River and swimming in the (occasionally) frigid waters of Flathead Lake. After my first experience snorkeling in the ocean (at John Pennekamp State Park in Florida), I was determined to become a marine biologist. Unfortunately, eastern Montana was distinctly lacking in oceans and I was encouraged by family friends to seek out more local volunteer opportunities. Ultimately, this led me to my soon-to-be Hutton mentor, Christina Stuart, the BLM Fisheries Biologist in Miles City, MT. After volunteering for a few days throughout the summer of 2014, Christina told me about the Hutton Scholars program. On her advice, I applied (and was accepted) for the program the next year, where I worked with Christina and her technicians on prairie streams.
My Hutton Scholar program was heavily fieldwork focused. I seined prairie streams, conducted topographic surveys and reservoir assessments, assisted with public outreach events, and occasionally helped with data entry. This work provided a wide variety of experience with different survey techniques and equipment of all shapes and sizes. Within a short 8-week window, I worked with seine nets, total station survey equipment, dichotomous keys, YSI water quality instruments, and Secchi disks among other things.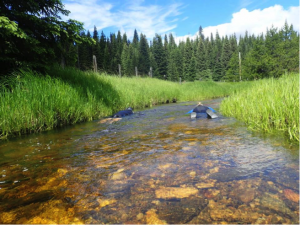 Figure 2- Conducting a snorkel survey for Idaho Fish & Game in 2018. Credit: V. Yager
Seining prairie streams was by far my favorite work we conducted throughout the summer. Despite topping my waders multiple times and regularly getting covered in mud and bug bites, every time we pulled out our seine haul to see hundreds of little fish flopping around, I felt excitement and awe for these little creatures bubble up within me. Learning to identify these obscure prairie fishes is a unique experience of its own, and I still hold a great deal of appreciation in my heart for fathead minnows, sand shiners, and flathead chub, simply because I could confidently identify them. The stream habitat and reservoir assessments were also incredibly useful, as they provided the opportunity to learn substrate types and riparian plant identification. Finally, our public outreach work, which included meeting with ranchers that lease BLM land for grazing and participating in a children's education day taught me how integral working with the public is to fisheries work.
By the end of my program I was fully convinced that pursuing fisheries was the right career choice for me. That fall, I began my undergraduate degree at the University of Montana (UM) in the Wildlife Biology Program (with an aquatics emphasis). The experience I gained with the Hutton Scholar program was invaluable throughout my college career. Not only did I learn terms like caudal peduncle long before my fisheries biology course, but it also helped me make connections between my introductory classes and how that knowledge can be applied in everyday jobs. For example, several of the prairie streams we worked on in eastern Montana are intermittent (meaning they dry up at some point throughout the year) and in my watershed hydrology course that I took freshman year, I learned about the underlying mechanisms (e.g., groundwater levels) that cause intermittency in streams.
Perhaps most importantly, the Hutton Scholar program helped me escape the experience begets experience wormhole (i.e., you need experience to get a job, but you need a job to get experience) that plagues many college-aged students. The work we do as fisheries professionals is incredibly rewarding and fun, which can lead to steep competition for even entry-level positions. Having spent a summer working in fisheries prior to even starting college provided the necessary experience to be competitive when applying for future field positions.
Since my summer as a Hutton Scholar, I've had the opportunity to work in fisheries positions across the country and with a variety of amazing fish. Some of these experiences included, working with paddlefish, pallid sturgeon, blue suckers and many other fishes for Montana Fish, Wildlife & Parks on the Yellowstone River, a National Science Foundation REU internship at Mote Marine Laboratory in Florida, snorkeling streams looking for salmon fry and steelhead parr for Idaho Fish & Game, working with lake sturgeon in Michigan, hiking in the backcountry of Nevada and California for Trout Unlimited (collecting temperature loggers), and surveying spawning Chinook salmon for the Oregon Department of Fish & Wildlife.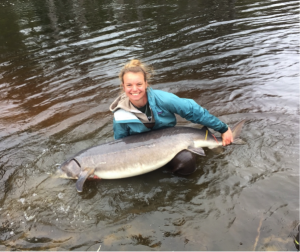 Figure 3- One of the female lake sturgeon we caught in our surveys in the Upper Black River, MI in 2019. Credit: K. Scubik
The final benefit (that I'll be mentioning here) I got out of the Hutton Scholar program is the connection it provided to the American Fisheries Society (AFS). I was involved with my student sub-unit of AFS all throughout college and attending the state meetings providing invaluable networking opportunities for me. For instance, I recently began my Master's at Montana State University in the Fish and Wildlife Management program and met one of my current advisors at a Montana AFS state meeting. 
Although I am still very early in my career, I honestly can't imagine pursuing a more fulfilling career for myself and I owe so much to my time as a Hutton Scholar. This program is incredible, and I would love for more high school students to have the same opportunity to experience the amazing field of fisheries. 
Thanks for reading! Please consider donating to the Hutton Fund if you have the chance!